A MESSAGE FROM OUR FOUNDER – HERMAN C. MIHALICH
My Dad wore hats. Real hats. The kind you only see in old pictures or movies these days. He had a lot of hats. His favorites were Stetson fedoras, handcrafted in Philadelphia, Pennsylvania.
Before he left the house each day, he'd carefully choose one from the rack and don it. The hat always seemed to fit his mood – or the occasion – perfectly. My dad's gone now but my mind somehow keeps coming back to those hats. People don't really wear hats much anymore, I suppose. It's become an affectation or a fashion statement. In those days, it was something more. A symbol of optimism. That we cared about quality, polish and finish. A subtle, personal signature. From an era when taking the time to do it the right way mattered.
We founded Dad's Hat Rye because we, too, want to do it the right way. To take up a tradition and make something that mattered — by hand, in small batches, using only natural, local ingredients and the most careful methods. Dad's Hat is made right here in Pennsylvania – the birthplace of genuine rye whiskey – in honor of my father, who enjoyed rye whiskey and served it at the family's tavern, and of that wonderful, optimistic time in America's history when we made a lot of things and took care to make them well. My heart tells me that many of us are searching for that spirit again.
We believe Dad's Hat Rye reflects that same simple, uniquely American personality better than any other whiskey. Crisp. Smooth. Delicious – not lingering or heavy-handed in its finish. Perfect for every occasion. After tasting Dad's Hat, we hope that you feel the same way
By the way, I kept those hats. I still wear them. And you know what? They fit… Perfectly.
HERMAN C. MIHALICH
| FOUNDER & DISTILLER
In a way, Herman Mihalich's childhood in Monessen, Pennsylvania predicted his future as the founder of Dad's Hat Pennsylvania Rye Whiskey. It was there, after all, living in an apartment above his family's bar, where Mihalich experienced the sights, sounds and stories that would eventually inspire him to reintroduce the world to Pennsylvania's once-rich rye whiskey producing heritage. Before coming full circle back to these roots, Mihalich made his mark as a Chemical Engineer. Of course, the fond memories of his father's bar remained a constant in Herman's life and ultimately led him to realize his life's ambition in 2010, when he launched the Dad's Hat distillery in Bristol. Many years have passed since Herman's youth in that Western Pennsylvania town but he's now exactly where he wants to be – carrying on a tradition close to his heart.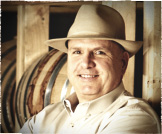 JOHN S. COOPER
| Co-Founder
Now that Dad's Hat has made its way to the whiskey-loving public, the world has been reintroduced to the Keystone State tradition of rye whiskey production. An achievement made possible, interestingly, with the help of a Bronx-native named John Cooper. The working class Throggs Neck, NY area was the ideal place for Cooper to develop the traits that would serve him so well in the following decades, including a successful 34-year career in sales and marketing. Those very same qualities eventually led his old college-friend, Herman Mihalich, to ask the seasoned professional – and lover of fine whiskey – to enlist his help in founding Mountain Laurel Spirits, LLC in 2010. Today, Cooper's goal for Dad's Hat Rye is simple – to make and sell delicious Pennsylvania Rye Whiskey that people will appreciate and enjoy for years to come.